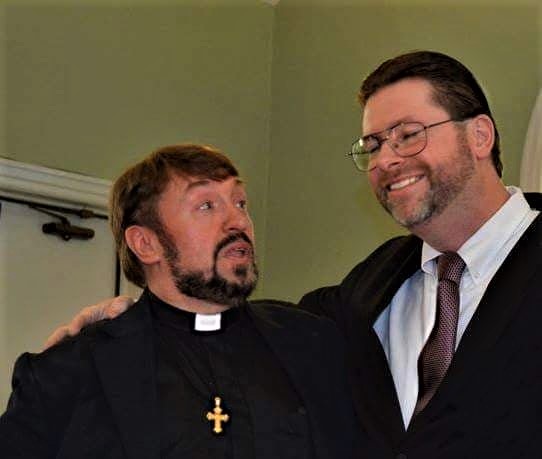 Deliverance Minister/Exorcist.
Extreme haunting survivor.
TV Personality.
Radio and media Personality.
Master of Ceremonies.
Pastor.
Seminarian.
Author.
Book me for events or set up an appointment to meet with me for services through Maria on my website. Help is out here if you ask. God moves mountains for His children.
Please feel free to contact me through my website if you're suffering from the effects of oppression, possession, health and emotional issues and crisis' of faith.
About The Carpenter's Hammer, Pastor Jeff Leeper:
Pastor Leeper is a former Co-Manager of TAPS Family and a past 4 year member of TAPS (The Atlantic Paranormal Society). Jeff Leeper has been in the paranormal field for over 4 decades and has extensive research and investigative resources.
Research and personal experiences began for The Carpenter's Hammer, Jeff Leeper in childhood. His Mother was a common resource for people having these "troubles." This sort of thing was basically taboo when he began in the field, as people feared ridicule even more than ghosts. For this reason Mr. Jeff Leeper likes and appreciates "Para-Media," as it has brought the field more mainstream.
A Skeptical believer, Jeff's experience has been with both the positive and the negative sides of the paranormal. A researcher belonging to medical groups, Mr. Jeff Leeper has outstanding resources at his disposal. The goal is not to prove there is paranormal activity, but to find out what the problem is and in doing so, solve it, regardless if it is medical, environmental or spiritual.
Fields of expertise. The Hammer, Jeff Leeper is an ordained minister as well as the manager and innkeper of Ironmaster's Mansion, near Gettysburg. The Hammer is involved in religious deliverance dealing with the negative aspects of the paranormal field. Jeff is also a 39 year veteran of the entertainment field as a vocalist , acting, TV, and as an entertainer onstage, a radio producer and as a popular On-Air personality, as well as his extensive experience in lecturing and teaching paranormal investigation. Jeff Leeper also does voiceover and emcee work and humbly states how very fortunate he has been in all these fields, blessed with good friends, good clients and great resources made available to him, whether they be sound engineers, psychologists, researchers or demonologists. Pastor Jeff is also a member of the FPI, Forensic Paranormal Investigations, a group solving cold cases and finding missing persons.
Never Boring. A Mixture of Laughs and Surprise. A published author with a collection of short stories, 2 other books published and his photography in another, Mr. Jeff Leeper works tirelessly on writing, and writing research, alongside his Key-note speaking engagements.
One anticipated book is on the "Hat-man" phenomenon, titled, "The Stranger in my House." Another is an autobiography with a well known co-author. Many of his books are themed as collections of short stories from his personal, true, and humorous experiences. Mr. Jeff Leeper is assisting in the writing of two movie scripts, adding both paranormal information and humor. His photography is also prominently displayed in the Reverend Bill Bean's book, "Ten Steps to Victory."
Key-note Speaker Mr. Jeff Leeper offers lectures and presentations of solid information, spiced with humor throughout, and coupled with the experiences from both himself and his friends in the field. His lectures and presentations are never boring, covering both his work with TAPS and TAPS Family, as well as his work in paranormal unity.
The Carpeter's Hammer, Pastor Jeff begins lectures with why paranormal investigators are a different ilk, and fear like everyone else, but fear differently. For instance, Mr. Leeper states he is unnaturally unafraid of the paranormal but is terrified of snakes, and has a very humorous outline as to why this is.
Photos and PowerPoint presentations accompany each lecture. All presentations and lectures start with "The Fears" talk. Two of the Reverend Mr. Jeff Leper's most popular lectures are:
The Hat-man Phenomenon. A detailed presentation as well as one of his more anticipated up-coming books based on this same subject, called, "The Stranger In My House." Both the lecture and book are a compilation of Mr. Jeff Leeper's personal experiences and stories from others.
And, "Scalded Daddy Parts", a compilation of true, humorous short stories about his life growing older, but not "up" in the 60's.
Demonic Deliverance. A presentation of Mr. Jeff Leeper's personal experience having a deliverance done on himself by his dear friend and Deliverance Minister, the Reverend Mr. Bill Bean, and the obvious changes brought on by that. Mr. Jeff Leeper is now also a Deliverance Minister working closely with the Reverend Bill Bean.
A Quick Note from Pastor Jeff Leeper.
"I thank you so much for reading about my life in "Scalded Daddy Parts" and also "Amazing Paranormal Encounters Three and Four." Both number one Amazon best sellers. I look forward to continuing my writing, My other books, "The Stranger In My House". "A Scary Home Companion", "Subbing for Santa" and "Out To Pastor" will be released in the next year.
- Pastor Jeff Leeper -